---
Installation Meeting - Friday 27th February 2015
Keep Lodge held their Installation Meeting on on 27th Feb 2015 and were very pleased to welcome the guest of honour, the Deputy Provincial Grand Master, Very Worshipful Brother Derek Thornhill, who was accompanied by the District Chairman, Worshipful Brother David Lightbown and the Deputy Provincial Grand Director of ceremonies Worshipful Brother Nigel Pickering.
The Installation of Bro David Moran as Worshipful Master for the ensuing year was conducted by the outgoing WM, WBro John Wilson, PProvAGDC and WBro David Bristol, PProvJGW
In the photos below, bottom left, we see VWBro Thornhill between outgoing WM (now IPM) WBro John Wilson (left of picture) and the new WM, Bro David Moran (right of picture) presenting 2 cheques. One is to the 2015 Festival for the magnificent sum of £6,538.00 (Keep Lodge 6538) and the other to the ELMC for £250.00.
After the excellent installation meeting the 60 or so Brethren (some from as far as Scotland) crossed the road to the Swan and Royal and enjoyed , a superb meal.
---
Recent Interview at the Open Day
Deputy District Chairman, David Bristol, a member of Keep Lodge, said at the recent Open Day on 10th August 2013: "It has always been important to Freemasons that we immerse ourselves in being involved in and helping the community in which we live.
"In recent years, East Lancashire Masons alone have supported local charities and good causes somewhere in the region of £500,000 a year."

"We have provided Clitheroe Health Centre with a defibrilator and it is our intention to have one in every public building eventually. We give an annual contribution to East Lancs Hospice and in the past year, have supported MacMillan Nurses 200 Club in Clitheroe; the Pendle Club in Clitheroe, the Mayor's Funds; St John Ambulance in the town; Blackburn Infirmary's Teddy Bear Appeal; Bowley Scout Group; Ribble Valley Crossroads carers and Clitheroe Salvation Army."

He was asked why, if Masons give so much, are they so secretive about what they do? David said: "These days there is little about Freemasonry which is secret. Everything can be looked up on the internet. In the past, Masons preferred to hide their light under a bushel, as the saying goes but we are much more open these days."

But what about the secret handshake, he was asked. "Well, there is some truth in that, replied David. "During the Middle Ages when stonemasons travelled all over Britain - and even to Clitheroe in search of work, there had to be quick and reliable tests of a mason's ability by the Master of Works, who wouldn't have known many of the craftsmen who came looking for work.

"Handshakes - and there were several - were the easiest form of recognition in those days. Everyone shook hands when they first met, by day and night and the Master was able to treat each man as he deserved by his different handshake, which gave an indication of the type of work which he was capable of doing."

"So, you're not trying to take over the world," he was asked. David laughed, "Not at all - although perhaps we may change the world with our charitable contributions and by the way we conduct ourselves. These days, when sometimes the world may seem to be in a moral flux, perhaps that would be no bad thing."
---
Cheque Presented to Crossroads Care in Clitheroe
On Wednesday 15th May 2013 Marcus Avci and Ian Johnston presented a cheque for £200 from the East Ribble District Charity Stewards Committee to Hilary Wood from Crossroads in Clitheroe.
Crossroads is a caring charity who have been supplying quality assured services for carers, individuals and families with care needs across the Ribble Valley in towns, villages and isolated rural areas for over 20 years.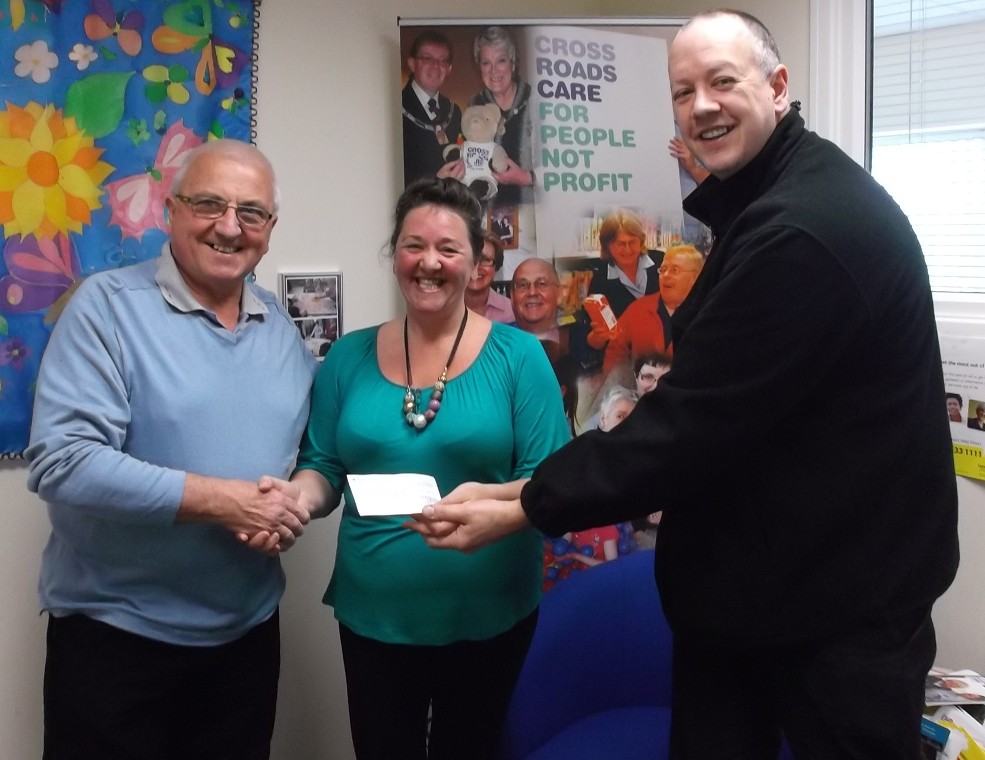 The photo shows Ian (left) and Marcus (right) presenting the cheque to Hilary Wood, a Development Worker for the charity.

The website for more information about the charity is http://www.crossroadscareribblevalley.co.uk/
---
Keep lodge annual weekend away
Keep lodge have organised a lodge weekend away in February for over 40 years. It all started in the early seventies when the cheap holidays to Spain arrived on the scene. WBro Keith Hall and Mary have organised the weekends away for quite a number of years and the Lodge goes to different places within about a 2 hours car journey from Clitheroe.
One of keep lodge`s most Senior members. WBro Peter Walker and his wife Hazel were on that first weekend away to Spain and are still enjoying these annual weekends away.
Keith and Mary Hall organised our latest weekend to the Derwent Water Hotel at Portinscale, about 1 mile from Keswick, from Friday 15th to the 19th of February 2013. The weather was glorious for the whole weekend and a good time was had by all. Having a weekend away is a great way for the members wives/partners and friends to get together and build up friendships - long may they continue.
The following photos were taken by Keep Lodge's Charity steward and Junior Deacon, Bro Marcus Avci. They certainly capture the excellent spirit of the weekend.